The reactivation of parked planes and the repopulation of desolate airport facilities may be the publicly visible images of the resumption of air travel after Covid-19, but a new appreciation for often invisible technology underpins the reopening of markets.
For air transport IT specialist SITA, this means stakeholders are showing enthusiasm for solutions that deliver immediate and longer-term benefits, despite the financial pressures the industry faces.
"The pandemic has helped raise awareness among boards and executives of the importance of technology," said SITA's managing director of airports and borders – and the company's acting managing director – David Lavorel during of an interview at the end of January. "The crisis has put a lot of financial pressure on the industry and has therefore caused people to be more open to new ways of working and more disruptive approaches."
Essentially for a heavily indebted sector, he suggests, "it's all about helping the industry do more with less."
With this mission in mind, SITA has been encouraged by the support of its shareholders to largely retain its investment in product development over the past two years.
"Constantly throughout the crisis, our shareholders have supported us to maintain investments, because from the start of the crisis we believed the industry was going to recover and we felt that technology would be important for that. ", explains Lavorel.
It's also an inescapable truth that few airlines or airports have navigated the past two years without a thorough review of capital expenditure plans, with some emerging from the worst of the crisis as structurally smaller concerns. As a result, SITA has seen industry spending on technology drop in 2020 and 2021, prompting a prioritization of uses for the remaining money.
"In terms of prioritization, everything has been thought out to support the recovery, in particular through the passenger experience", specifies Lavorel. "We've seen airlines and airports want to rebuild trust that a passenger can travel and make it as enjoyable as possible.
"The ambition is to potentially make transiting through an airport less risky than going to a supermarket," he adds.
This means spending on introducing seamless and – where possible – contactless air travel has been prioritised, alongside areas such as digital health credentials, spending on 'operational' technology and l infrastructure expansion both suffering from deprioritization, in the short term. term at least.
DIGITAL DYNAMICS
Fortunately, while SITA expects airline and airport technology spending to increase in 2022, the theme encompassing most of the technological advancements in demand today – including seamless, contactless travel – is not by no means new to the IT specialist.
SITA has long been interested in the digitization of the sector, and today the subject is "in the center of attention" for many companies, "as it is in our lives outside the industry", says Lavorel.
Having recognized the potential operational and financial benefits of investing in such trends – and having had the likely positive impacts amplified by the challenges endured over the past two years – "nearly all of our clients have a digital transformation goal at this point" , he says.
Concretely, one of the objectives of digitalization is "to get closer to customers equipped with mobile phones", says Lavorel, adding: "For example, to push the check-in experience to homes".
SITA has also developed a technology called Flex, "which will allow your mobile to interact with the infrastructure of the airport", he specifies, in particular via functions such as direct printing on the check-in terminals by example.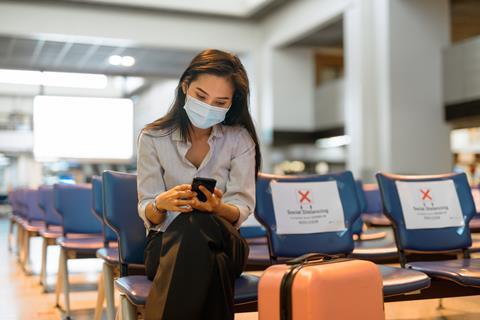 Lavorel also highlights SITA's lost baggage solutions, which give passengers "the ability to report on the same service basis [on their mobile phones] instead of going to the ground handling office".
Digitization is also an important theme in aircraft cabins and cockpits, based on the increased use of mobile apps for previously paper-based processes.
Health management is another area that has propelled the digital transformation agenda for airlines and airports over the past two years – including "how we get away from this paper industry as much as possible," says Lavorel. in reference to the myriad of ways travelers can prove their vaccination status.
"We've seen a slew of these travel apps because of Covid – it's been a huge industry driver and it's created chaos, to be honest, because…there are almost as many Covid apps and travel than there are carriers and countries," he says, noting that SITA has launched a product called Health Protect, aimed at solving the problem.
As an enabler of seamless, contactless travel, biometrics is another area that has garnered increased interest amid the pandemic.
"The news for 2021 is that we've also seen demand and interest from regional and national airports," Lavorel says of biometrics, as facilities beyond major hub airports increasingly see the potential benefits related investments.
He cites the widespread use of biometric technology at Beijing Capital Airport as evidence that SITA already has "technology that works."
Lavorel further cites a recent trial at San Francisco airport, where driver's licenses were used for biometric identification, expanding the use of technology beyond passports.
BLOCKCHAIN ​​REACTION
Away from the passenger side of SITA's work, Lavorel points to blockchain as another disruptive factor that the industry is increasingly interested in.
"We have started an initiative on the MRO side of the business where there is tracking of maintenance activities and the movement of parts, which is extremely important," he says.
"Blockchain has enabled businesses to put aside concerns about ease of transactions, traceability and security, to focus on the added value of opening up the environment for a smoother exchange of goods and services. ", explains Lavorel.
In addition, SITA is focusing on a longer-term – and arguably existential – challenge for the airline industry: sustainability.
Along with the ethical benefits and potential cost savings of acting on sustainability, Lavorel notes a growing trend for lenders to require "increasing green credentials" from companies – a key consideration for a sector that has been hit financially hard over the past few years. of the last two years. .
With SITA itself already certified as carbon neutral, Lavorel recognizes that the path towards the airline industry to achieve net zero carbon emissions by 2050 is a challenging one.
But while some developments will require technological breakthroughs beyond SITA's control, smaller technology-driven steps are already possible.
TANGIBLE LEVERS
"Our belief is that we must act now," says Lavorel. "We know that industry can reduce its emissions by around 10% through operational efficiency and the action of certain tangible levers."
For airlines, SITA offers software applications "that leverage artificial intelligence and data that help airlines optimize flight paths – and save fuel and help reduce emissions." This is done by "optimizing the climb and descent phases and helping airlines to optimize their flight paths according to weather conditions".
"We have software solutions that cost around $1,000 per month that can help you save just under 1% [of fuel]observes Lavorel, contrasting with the multi-million dollar investments airlines are making in new planes.
For airports, Lavorel puts forward two SITA offers.
"We have a product that optimizes the starting sequence and helps decide when you start a [aircraft] motor. And the other is that we're partnering with a company called Envision Digital to bring energy optimization to the airport.
LONG-TERM VISION
More broadly, SITA's long-term technology vision encompasses themes such as integrating eVTOL operations into airline and airport operations, and using augmented reality to get the most out of space-constrained airports. , Lavorel describing metaverse-like solutions.
It also describes the "evolution of the passenger becoming smarter" through the collection of data at multiple points along the way.
"Data is at the heart of what's going to happen," he says.
SITA also believes in the vision that "your face can become your boarding pass," says Lavorel.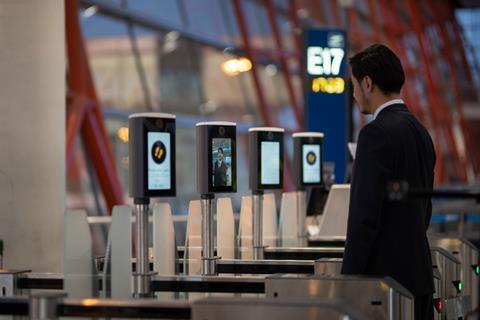 And for immigration control, the ambition is "a kind of video tunnel that one would pass through on arrival and there would be technology that would allow border agents … to identify the people to whom they want to talk, so the flow would be a lot more natural." .
For now, however, SITA can rest assured that investment is returning as international travel picks up momentum.
"When we look forward to 2022, we see a recovery," he says. "We recently released our IT Insights survey, which shows that 84% of airlines and 81% of airports plan to invest more in 2022 than in 2021.
"From a travel perspective, the industry has started to adapt and knows better how to cope. It's not perfect, but the industry has normalized a bit… and we think we're headed towards life with the virus.
As this unfolds, Lavorel is confident that SITA is positioned to generate value from investments in technology, from its unique perspective as an industry-owned company.
"If everyone tried to tackle the problem, it would always be much more expensive and slower than if people like us were doing it," he concludes. "We have a global outlook and can therefore very quickly bring experience from place to place."
LOWEST PRIORITIES
The upheaval in the industry over the past two years has changed the dynamic among stakeholders who might seek SITA's assistance.
"A big lesson for us from the pandemic is the stark difference between the long-haul recovery and that seen for short-haul and domestic services," Lavorel says.
This has meant a recalibration of what certain types of airports might need in terms of technology.
"According to [our data], the airport in Europe that opened the most new routes in 2021 was Santorini in Greece," explains Lavorel. "Normally I would expect Frankfurt or Heathrow to lead the pack in terms of momentum and market share, but it's Santorini that really exemplifies the recovery towards these smaller regional players.
"Some of these medium-sized airports and carriers weren't necessarily equipped or didn't have the investments to handle this kind of recovery," he continues. "From our side, it's an opportunity to help and we had to adapt a portfolio that was sometimes more geared towards supporting the long-haul and large hubs part of the business."